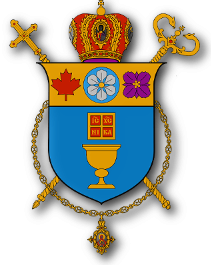 Chancery Office, Eparchy of New Westminster
10 March 2019
Glory to Jesus Christ!
Dear Sisters and Brothers,
We have now completed our first week of the Great Fast. Our Lenten journey towards the celebration of Easter-Pascha has begun—a blessed time of increased prayer, fasting and works of charity.
There are so many different forms of prayer: petition, praise, intercession, thanksgiving. But Lent is a special time to stand before our Heavenly Father as we are, acutely aware of our own sinfulness and inadequacy, yet mindful of His grace. This prayer of contrition, to judge oneself before the Lord, is, in fact, one of the meanings derived from the Hebrew word for prayer, tefillah. Whether together in community during liturgical prayer or privately in the depths of our heart, let us ask our Lord to heal us and to restore our relationship with Him.
Through the practice of Lenten Fasting we can curb and take charge of the desires of the flesh. We know that food is a gift and that is why we say a prayer of blessing before meals. But hunger is a gift as well, especially when we wilfully deny ourselves nourishment or some pleasure. I remember when I was a young boy; my Mom would endlessly warn me not to eat candy or chocolate before supper because I would ruin my appetite. Sadly, more often than not, I did not heed her good advice, and would sneak a chocolate or a candy and then just as she warned, I didn't feel like eating the wonderful meal that she had prepared for the family. During Lent our physical hunger is a sign of spiritual hunger. Our empty stomach is an image of us emptying our hearts of self-centredness, so that we can be filled by God. When we fast or abstain from certain foods, when we deny ourselves certain activities, we are not only preparing our bodily appetites for the Easter feast, but we are also preparing our spirit for the celebration of life everlasting, which He has already prepared for us.
The third element of our Lenten spiritual journey consists in almsgiving or performing acts of charity, the sharing of our time, talents or treasure with those in need wherever they may be--in our own family, our community and neighborhood, or in distant lands. Almsgiving helps us move beyond ourselves and focus on those who are less fortunate, our sisters and brothers in need. Jesus told us that whatever we do to the least among us, we do it unto Him.
I want to encourage you, Dear Sisters and Brothers, to take advantage of this special time of prayer, of fasting, of almsgiving, and invite us all, as members of the Eparchy of New Westminster, to common action. Each year during the Great Fast I have encouraged all to come together as one Eparchial family and support a particular cause. In past years we have supported Caritas Ukraine, the Ukrainian Catholic University in Lviv, etc.. This year I would like to ask you to make a donation to CATHOLIC MISSIONS IN CANADA. Founded in 1908, Catholic Missions in Canada, at the time called 'The Catholic Church Extension Society of Canada', has come to the aid of isolated missions across our country where a lack of resources makes it impossible to maintain a Catholic presence without outside financial help. In fact, Catholic Missions in Canada came to the financial aid of the first Ukrainian Catholic Bishop in Canada, Blessed Nykyta Budka, who arrived in Canada in 1912. Since that time our Ukrainian Catholic Church has benefited greatly from its financial support. Catholic Missions in Canada has been and continues to be one of our greatest benefactors. Without their help our Eparchy would have a very difficult time providing pastoral ministry to our faithful in British Columbia. Many of our parishes struggle to meet their financial obligations, perhaps to cover costs of property insurance or other running costs, Missions In Canada helps us make up these shortfalls. We receive funding from Catholic Missions in Canada for our annual Eparchial summer Camp, Camp Saint Volodymyr. They have supported the education and formation of some of our Eparchial Clergy. In fact, I am personally indebted to Catholic Missions in Canada. They supported my formation to the priesthood when I was a seminarian!
If I have succeeded in convincing you to make a generous donation this Lent to Catholic Missions in Canada, you can use the special envelopes that will be provided to you [at your parish]. For donations of $20.00 or more you will also receive a charitable donation receipt. Our Eparchial collection will take place on Sunday 31 March. However, if you are not able to be in church that Sunday, you can use the envelope earlier or even later. All funds collected in the parishes will be forwarded to the Eparchial Chancery Offices and then sent to Catholic Missions in Canada as our Eparchial donation. We will report back to you, so that you can know how much we've collected this year.
Together as an Eparchial Family, let us make this Great Fast a special journey of prayer, fasting and generosity, ever mindful of the blessings of Pascha that await us!
With prayerful best wishes, I remain,
Sincerely yours in the Lord,
✙ Ken