Looking for a hall to rent in Nanaimo? The parish hall of St Michael the Archangel Catholic Parish is available for rent for meetings, classes, or social events. The hall is located next to the church, at 4017 Victoria Avenue, just off Island Highway, at the south end of Long Lake. To enquire about hall rentals, please use our online form.
Facilities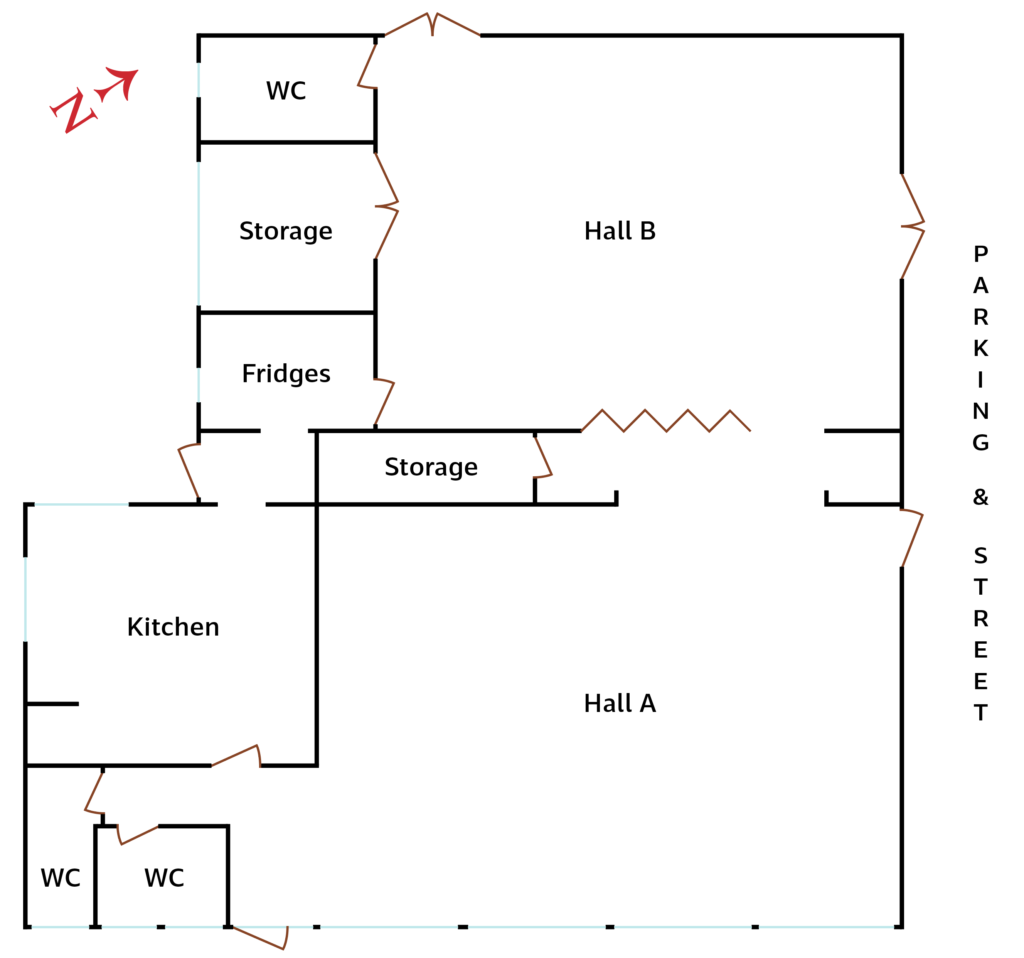 The parish hall is divided into two large rooms (approx. 736 and 620 square feet, respectively) with a sliding partition. Folding tables and stacked chairs are available. City fire regulations limit the occupancy to 132 people. There is a large and well-equipped kitchen (approx. 180 square feet) with two ovens and gas ranges, refrigerators, a dishwasher, a selection of cooking pots, serving dishes, and tableware. There are two restrooms for women, and one for men. The facilities were freshly renovated in 2021–22.
Rental fees
Rental fees are reviewed annually, in May. Any changes for the coming year are announced at the beginning of June, with new rates coming into effect at the beginning of September. The fees posted here are valid through the end of August 2023.
The hall is rented for a minimum block of three hours, with each additional hour (or part thereof) charged at an hourly rate. Use of the kitchen is covered by a surcharge. Rates are as follows:
Non-profit organisations and charitable events
Hall rental = $40 for the first three-hour block
Additional time = $10 per hour
Surcharge for light kitchen use* = $10 per use
Surcharge for heavy kitchen use** = $35 per use
For-profit and social events
Hall rental = $60 for the first three-hour block
Additional time = $25 per hour
Surcharge for light kitchen use* = $15 per use
Surcharge for heavy kitchen use** = $55 per use
* Light kitchen use would cover making of coffee or tea, use of cups and saucers, serving dishes and tableware for e.g. cakes and cookies brought from elsewhere, and use of dishwasher.
** Heavy kitchen use would cover any cooking on the premises, use of pots and pans, cooking and serving utensils, etc..
Parish members receive a 40% discount on the above rates.
Contract & Insurance
The parish hall is made available under a rental agreement. Some terms are negotiable: if you have specific questions or requests — for instance, regarding setting up of tables and chairs —, please discuss these with the rental coordinator before finalizing the agreement. For some uses a damage deposit may be required.
Use of the hall requires liability insurance. If you have your own insurance coverage, you will be asked to provide a certificate of liability insurance. Eligible renters are also able to arrange event insurance through the facility user program managed for the Eparchy of New Westminster by Ecclesiastical Insurance. Per-day cost of insurance through the facility  user program is in the range of $75–$165 depending on the number of attendees, the amount of coverage, and whether alcohol is served at your event.
Church rental
We occasionally receive queries asking whether it is possible to rent our church building, rather than or in addition to our parish hall. The church is a place of Catholic worship consecrated to the celebration of the holy sacraments. As such, it can only be rented by ordained clergy of Catholic or Orthodox Churches whose sacraments are recognised as universally valid by the Catholic Church. No exceptions are possible.